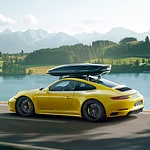 We at Porsche of Chattanooga, believe the Porsche 911 Carrera has made it easy to stay safe with some of the most impressive assistance programs on the market.
The chance to enjoy the best in safety and warnings is easy to discover when you choose the beauty and classic stylings of the Carrera that can be enjoyed with the safety and warning modes that allow you to focus entirely on your driving. Perhaps the most impressive option to enjoy from the designers at Porsche is the warn and brake assist two-stage program that warns the driver of a possible collision before applying the brakes if the driver fails to react.
Driving a sports car around Chattanooga is a satisfying experience but many of us worry about driving in wet conditions. Porsche has taken care of that by introducing a WET Mode that allows the 911 Carrera to alter its settings to make driving in rainy conditions a little easier.