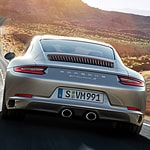 The new Porsche 911 Carrera is a revolutionary in a sense. This rear-engine beast is a popular choice among car enthusiasts worldwide. Consumers can expect plenty of horsepower, a well built chassis, premium upholstery and advanced technologies.
The new Porsche 911 Carrera can seat as many as four individuals, and the seats are made of premium leather. Some of the most advanced technologies can also be found in the cabin, including multiple touchscreen displays. These displays are of high resolution, and they're highly detailed. The vehicle's analog tachometer looks amazing as it perfectly coordinates with all of the digital features. From its rounded curves to it astounding flat surfaces, the 911 Carrera sports a unique exterior. This design is the epitome of the word aerodynamic. There's also stunning LEDs that are located on both ends of the car.
Come and see this vehicle at our showroom for a better perspective. Test drives may also be on the menu.