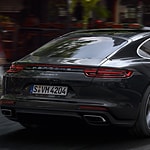 A sophisticated look is often one of the most coveted visuals in any field, but specifically when buying something new. Whether it be a new outfit, a new house, or a new watch, the look of the object plays a major role. This need for sophistication is especially true of new cars, which is one of the many elements that the Porsche Panamera excels in.
One of the ways in which the Porsche Panamera is especially sophisticated looking is the exterior of the car. We at Porsche of Chattanooga want all customers to understand that the Porsche Panamera is built in a sleek manner, allowing it to stand out to everyone who sees it. Furthermore, the exterior colors offered are sophisticated in nature, catering to the overall look of the car.
Another way in which the Porsche Panamera caters to a sophisticated look is the variety of material available for a customary car. The materials include leather, Alcantara, wood, carbon, and aluminum, allowing each car to have a sophisticated look that is individual to the respective owner. With these materials, the Porsche Panamera drivers of Chattanooga can drive with sophistication for a lifetime.